Veganuary is in full swing with Mustard Foods introducing a vegan day to our staff canteen offerings.
Last Friday's menu, brought to the team by Staff Chef Michael Simpkin, was vegan sausages in a vegan red onion and thyme gravy, olive oil mash and garlic and thyme roasted field mushrooms.
Production Manager Edgar Solis found it mouth-watering.
"I honestly couldn't tell the difference and they tasted great," he said. "What is very important to me is that my team are all still getting a hearty, balanced and nutritional meal allowing them to keep working in a busy fast-paced kitchen environment."
Such has been the success of our Meat-Free Fridays that they are here to stay, and not just for Veganuary.
Everyone at Mustard believes we must do our bit for the planet, however small it is, but also there is enormous value in educating our team that vegan meals can absolutely be delicious, nutritious and wholesome.
But while Fridays are meat-free, every day of the week we offer a different vegan or vegetarian option in the canteen.
The favourites currently being served are 'Sweet Potato and Butternut Katsu Curry', 'Braised Green Lentil Masala with Kale', and 'Smokey Brazilian Black Bean Feijoada with roasted Carrots'.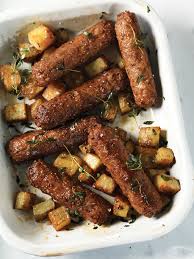 "Cooking for the Mustard Family is a big responsibility and one that I have learnt to thrive on," said Staff Chef Simpkin.
"Keeping all 70-plus members of staff happy, and fed, is by no means easy, however as I progress here under the expert guidance of Development Chef Jonathan Francis.
"The positive feedback has been very rewarding and enabled me to believe in myself more and therefore continually improve in everything I serve.
"Here's to a successful 2020 and maybe the introduction of a second vegan-only day in the not too distant future!"
All staff are welcome to a meal in the canteen pre- and post-shift with Mustard Foods providing tea, coffee, fresh fruit and four meals every day.
We serve breakfast, lunch and dinner as well as a 3 am mid-shift meal to our 70-plus team, split across three shifts. This equated to just under 55,000 meals served in 2019.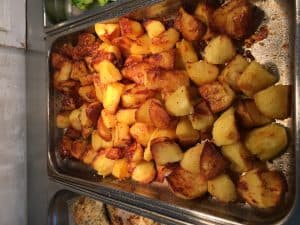 Feeding the team is not only about ensuring everyone is marching on a full stomach, but also that they have an opportunity to sit and eat together, building a sense of belonging to the Mustard family.