One cannot think well, love well or sleep well, if one has not dined well.
The words of Virginia Woolf pay homage to the epitome of hospitality, to which 2020 was a year of reckoning. In months, COVID-19 flatlined half of our planet. Images of panic-buying, empty supermarket shelves and mile-long food bank queues punctuated the stark reality of the importance of food systems in our lives.
To close even for a week, is incredibly punishing to food businesses, and COVID-19 annihilated the supply chain from field to consumer. Extensive disruption to processing, distribution and demand precipitated the closure of food production facilities, the backbone of the UK's largest manufacturing sector.
From producing over 30 tonnes (the equivalent of five elephants) of food per week for 32 of the UK's leading restaurant groups, to zero, Mustard Foods were faced with a tremendous challenge. Within 1km of its production facility, NHS frontline staff were facing a monumental crisis themselves, working extremely long hours with limited access to food and other provisions as supermarkets were bare, and hospital canteens closed. COVID-19 decimated our business overnight. To save production whilst assisting our own community, felt serendipitous. It was crucial in enabling us to find our way through – James Robins, Managing Director.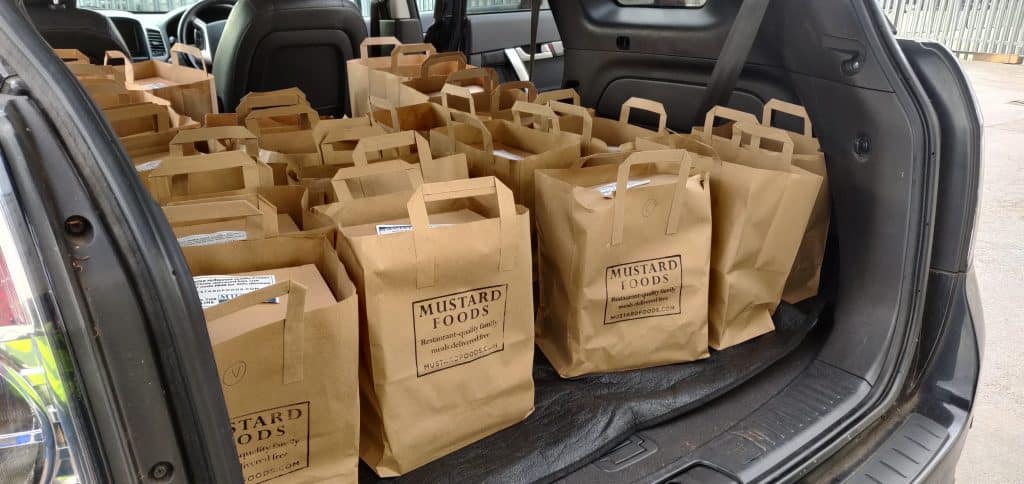 Mustard set out on a mission to bring hospitality to where it was needed most; our hospitals. A freezer van parked on site at St George's, Tooting, enabled staff to order and collect one meal per shift.
We received a delivery of dozens and dozens of delicious meals…the food was wonderful. A quick thank you in the car park didn't do justice to the effort that has gone into this gesture. People such as yourselves have played a large part in keeping morale up during this difficult time.
Accident and Emergency Doctor, St George's Hospital.
100 meals became 1000, and whilst difficult to keep calm and curry on, production staff continued to work tirelessly to ensure London's busiest hospitals received a choice of handmade and delicious ready-meals every day.
Whilst support of NHS staff continued, hospitals became overwhelmed with other food donations, prompting Mustard to reach out to more overlooked vulnerable populations, such as Evolve LDNs refugees, PLOD Foundations' homeless (of which there are 200,000 in London), in addition to Women's Shelters and local nursing homes.
From a comforting Bolognese to an aromatic ginger and turmeric soup, or a steaming Thai red curry, Mustard's ethos is simple: everyone deserves to dine well. Whilst seemingly insignificant amongst the tsunami of devastation that enveloped us, Mustard sought to provide respite and nourishment to those sacrificing their health and wellbeing to keep our NHS afloat, and vulnerable groups, who would otherwise not have access to a fresh, hot meal. No man is an island, and in such troubling times, a humble box of warmth and sustenance goes long way.
From March 2020 to April 2021, Mustard Foods collaborated with 3 different non-profit organisations to deliver 475,000 meals (that's more than the global elephant population), to the NHS frontline and vulnerable, in over 15 hospitals and centres across London and the South West of England.